Our Textile Recycling Banks
UK Textile Recycling manufactures and supplies textile recycling banks to numerous charities and organisations. Our textile recycling banks can sited in public locations such as parks, libraries, shopping centres, supermarkets, schools and nurseries – anywhere that are easily accessible for both people who want to recycle their unwanted clothes, and our team of collection agents.
The clothing banks are emptied and serviced on a regular basis, to ensure the bank itself remains in good condition, and to enable the recycling company to start the recycling process.
Customised for your fundraising
Each textile recycling bank can be individual customised to suit your organisation. Displaying your message and logo.
Textile Recycling Bank Dimensions
| | Large | Small |
| --- | --- | --- |
| WIDTH | 1500mm (5ft) | 1115mm (3ft 9") |
| HEIGHT | 1940mm (6ft 3") | 1460mm (4ft 91/2") |
| DEPTH | 1220mm (4ft) | 935mm (3ft 1") |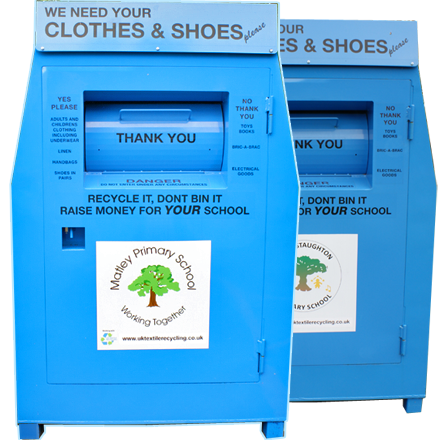 For more information
call 01832 735336
© 2010 UK Textile Recycling — Website by
three five design, Northampton
.